Management
The supreme governing body of Dizex Holding is the annual general meeting of shareholders. Further meetings of the members of the Holding are extraordinary.
Holders of ordinary and preference shares have right to vote at an annual general meeting. Each shareholder can exercise their right to vote by attending a meeting in person or by voting by proxy. A meeting becomes valid if the total number of submitted votes exceed 50% of all shareholders entitles to vote.
The annual general meeting make amendments to the Articles of Company Association, approve of annual accounts and reports, appoint auditors, declare of any dividend, elect the Board of directors and Internal Audit Commission, make decisions on company's reorganisation or liquidation, and increases or decreases to share capital.
Board of Directors
The Board of Directors is appointed to oversee general management of the Holding with the exception of the matters that are within the authority of the annual general meeting of shareholders. Members of the Board are elected by the general meeting of shareholder for the period of one year until the next general meeting.
The Board of Directors' purpose is to identify key priorities for the business, to approve of annual budgets and investment programmes, to convene annual general meetings of shareholders, to form executive bodies, to recommend the amount of dividend paid to shareholders.
Executive Bodies
Chief Executive Officer (sole executive body) and Executive Board (collegial executive body) manage daily operations of the Holding. They exercise power to implement decisions of the general meeting of shareholders and the Board of Directors and are accountable to them.

CEO and the Executive Board members are elected by the Board of Directors for a five-year term. The Executive Board develops annual budgets, investment programms, current and future business plans, prepares reports, organises company's management and exercises control over operations.
Chief Executive Officer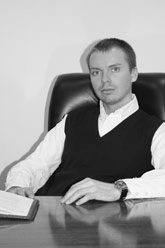 Chief Executive Officer of Dizex Holding,
Deputy Chairman of Board of Directors of Dizex Holding
Igor Aliev

Igor Aliev was born on 28 April 1986 in Donetsk.
He graduated Donetsk National University. After graduating he worked at a number of governmental and commercial organisations. He joined Dizex Holding in 2005 where he held managerial posts in several departments and led the Russian office of Dizex Holding.
He has been Chief Executive Officer of Dizex Holding since April 2009.